Home
Five Top Tips for Lighting Your Bathroom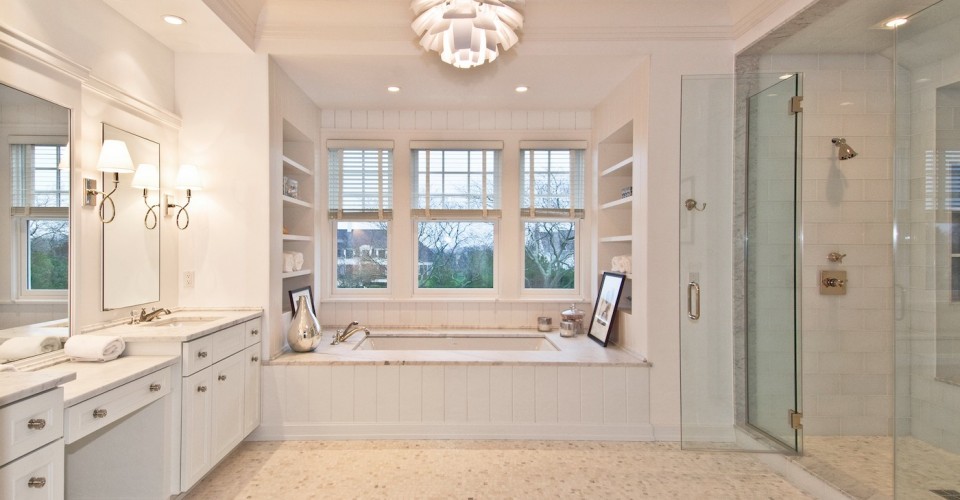 The bathroom is one of the most private and personal spaces in a home, and your interior design choices should work toward making it into your own personal sanctuary where you can lock yourself away and relax at the end of a long day.
Of course, lighting plays a big part in this, and can help to make your bathroom relaxing and welcoming.
Here are some of our top tips for lighting your bathroom in the right way.
Avoid placing a light above the mirror
It's become quite popular for people to place a light above their bathroom mirror so that they can better see themselves when applying makeup or shaving.
However, this can actually be a bad idea, as it will throw a very strong light onto your face, casting deep shadows on your eyes, nose and chin.
Not only does this make it more difficult to get yourself ready, it also makes you look a lot older, which is the last thing you want your mirror to be doing!
Instead, consider placing two lights either side of the mirror to provide your face with perfect shadowless illumination.
Choose the right wattage
We spoke to Oberoi Brothers Luxury Lighting who recommend that for a large main bathroom you should choose lighting which provides somewhere between 75 and 100 watts of illumination.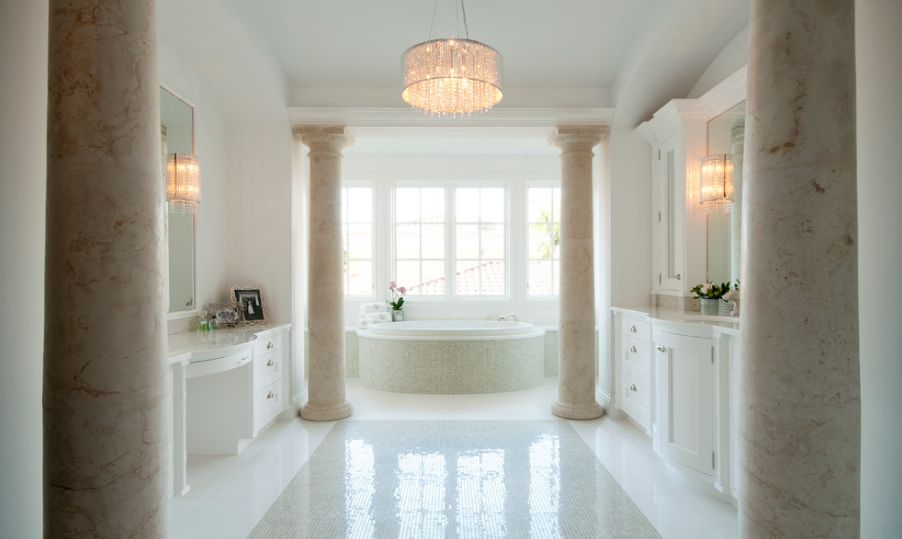 On the other hand, a guest or en-suite bathroom will only require around 45 watts and provide a much softer ambience.
It's also a good idea to fit your lights with dimmer switches so that you can make things a little bit more relaxing first thing in the morning and late at night when your eyes are adjusting.
Something else which is worth considering is how the lighting will complement the colours in the room, which you can read more about in this article from Houzz.
Use accent lighting to highlight features
If you've spruced up your bathroom with pictures, plants or any other decorative touches, why not use some accent lighting to draw attention to it?
Some recessed directional lights can provide just the right amount of illumination for those little extra touches that you've added to your bathroom.
Make a statement
While your bathroom lighting should primarily be functional, and help you get ready to face the day, don't be afraid to show off a little bit with some decorative lighting.
For example, how about a single shimmering chandelier in the centre of the room to give it that extra bit of sparkle?
Or how about some spotlights focused on the bath or shower, or even some floor lights?
Save energy and money
Using more energy efficient bulbs in your bathroom isn't just better for the environment, but it'll save you money in the long run.
Consider compact fluorescent lamps (CFLs) for your main lighting, or light emitting diodes (LEDs) for things such as spotlights or dimmable accent lights.
While LEDs are slightly more expensive than traditional and CFL lights, they are the most energy efficient, so will save you money long-term.
For a little bit of inspiration, check out this post from HGTV showcasing 13 Dreamy Bathroom Lighting Ideas.
Explore the real Bohemian style lamps here. Find out the history of bohemian style lamps, how they are made, where to buy online, and tips to consider while buying.