Home
Restyle Your Living Space With 3 Fabulous Canvas Prints Ideas!!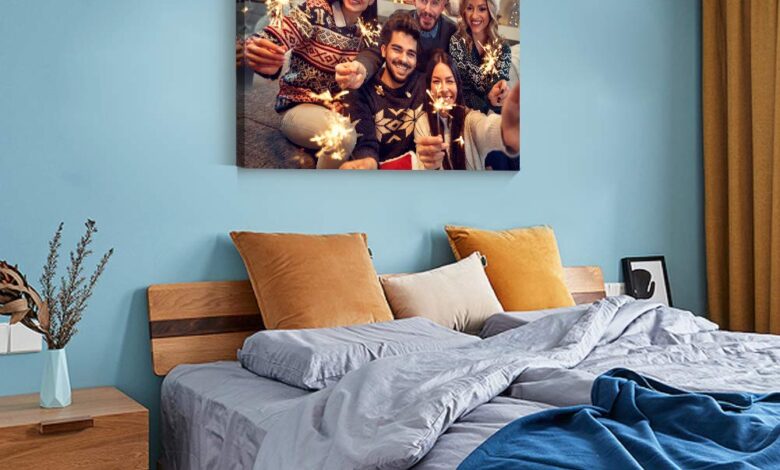 When it comes to wall Decor then it is one such prominent aspect to consider for the purpose of turning your house into a personalized home. With just a pinch of personalization and you can have a better transition waiting for you. Even a few hanging Canvas prints for bedroom can bring a great sense of personality to your home.
It doesn't really matter, whether you are relocating or repairing your house in order to cover patches & cracks on the walls, it generally takes a lot of research and thought to find a perfect wall decor idea for your home & preferred style.
So, let's dive deeper into the list of Canvas wall décor ideas for your walls in 2023:
Canvas Gallery Wrap
It is a perfect quality wall décor for the dedicated space, and this is mainly referred to as a physical gallery, where your art can be displayed in order to get viewed and appreciated. If you are searching for elegant and simple and custmised canvas prints for living room then canvas gallery wrap is the thing you need the most today. So, reserve this customised space for the framing moment of your life in order to let this space stand out the most.
Different Aspects of Canvas Gallery Wrap:
Showcasing Your Artistic Excellence
Enhancement of Artistic Experience
For the Purpose of Preservation and Longevity
For better Accessibility and Diversity
For making an art Investment
Split Canvas
Somewhat similar to the Canvas Gallery Wrap, but with slight differences, split canvas print scan be a perfect blend of a wooden crafted frame of size 1.5 inches in thickness along with a canvas print. A glossy material on your canvas print can easily keep your print from dusting. With this art, you can easily split your art into 2 or more different sections with each & every section can act as a separate entity for displaying pictures, concepts and elements. You can have vertical, horizontal, diagonal or any other irregular shape as per your needs and comfort.
Different Aspects of Split Canvas:
Provide you an ability to generate visually striking compositions
Avail dynamic visual narratives
Easily play with juxtaposition, contrast, and storytelling.
Showcasing contrasting ideas, sequential events, and complementary elements.
Allows exploration of various perspectives inside a single artwork
Canvas Posters
Last but not least, canvas posters mainly refer to printed artwork or a design that can be reproduced on canvas material instead of making use of traditional paper/cardstock. Comes in a bigger size and is mainly utilized for decorative purposes in offices, homes, galleries etc. The strategical approach associated with canvas posters can lies in terms of their skills to perfectly combine the texture of canvas & durability of visual impact in a printed artwork. You can easily order canvas prints online in UK for providing a rollover to your living space.
Multiple Aspects of Canvas Posters:
Perfect Visual Appeal
Adding uniqueness and desired depth to your printed image
Giving tactile quality with a sense of craftsmanship &authenticity.
Durability in terms of resistant to tears, fading, and creases, thus suitable for a long-term display.
Perfect Investment Option
Versatility as no need of framing,
Easy installation & customisation, thus perfect for your same day canvas prints
Artistic Reproduction
Importance of these Canvas Prints to Increase Authenticity of your Living Space
Whenever it comes to the task of fulfilling the demand for wall décor, then expensive products don't always necessary to be included in your watch list. Also, you don't have to be extravagant or swanky, instead, you just need a simple as well as colourful combination of wall art in order to fill your empty space.
So, don't wait for long, just generate your wall art with a frame of memories in order to attract your guest in the simplest possible manner without a need to do a mess. You can choose multiple sizes, shapes, colours, textures and materials to make it fit into your custom needs.
Large canvas prints provide versatile decor options. They can be used to amplify the aesthetics of various environments, from contemporary urban apartments to traditional countryside homes. When choosing large canvas prints, consider the room's style and color scheme to ensure a harmonious integration that enhances the overall ambiance and aesthetics.