Home
All you Need to Know About Pergolas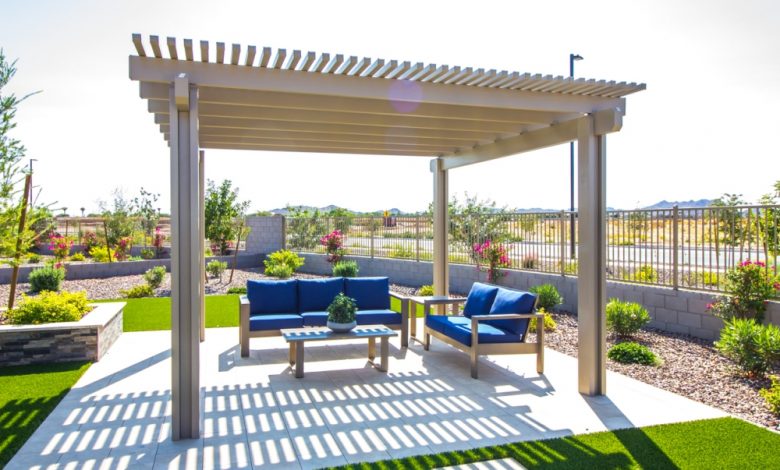 We've all heard the work 'pergola', yet not everyone knows exactly what it means, so to set the record straight, a pergola is an exterior structure with vertical supports and horizontal roof girders and they come in a wide range of designs.
Flat Roof Designs
The most popular roof design for pergolas is flat, slightly sloping to one side, with guttering to provide an escape route for excess rainwater; the supports can be steel, concrete or even timber, while there is a range of materials that are suitable for roofing, from a clear plastic corrugated sheet to high-insulation roofing that helps keep the interior cool in the hot summer.
Gable Pergolas
A pergola can incorporate a gable and become part of the existing roof, using matching roof tiles to ensure the new section is in keeping with the character of the property. Fortunately, there are specialist flat patio contractors that can design and build a bespoke terrace solution and they can easily be located with a Google search.
Dome Pergolas
Many Australian homeowners prefer to have a dome roof on their deck, primarily due to the increased airflow, which helps to keep the area cool in the hot summer months. This can be a stand-alone structure, with a covered walkway to the house, anything is possible with custom solutions and let's face it, your relaxation zone needs constant shading.
Designed Around your Space
The great thing about a custom pergola is the unit can be designed specifically for that space and with a choice of flooring options, you are only limited by your imagination. When you make an online enquiry, the contractor would send a designer to your home, where you can both discuss the many options; having a design expert at your side means all your questions will be answered and the final design will more than meet your needs.
All-Inclusive Quote
When dealing with a pergola contractor, they will give you an all-inclusive quotation for the entire project and you can expect a long warranty on both materials and workmanship. This is a comprehensive solution and the project deadline is always met.
Boost the Value of your Home
A pergola is considered a permanent structure and that means additional living space, which automatically increases the value of the property. When you carry out home improvements, aside from having the extra comfort and luxury, the home is going to be worth more after the project is completed.
If you would like to check out some of the designs that Australian homeowners are choosing for their rest and relaxation area at the rear of the home, start with a Google search for 'pergola builders near me' and see what that brings.